May 27th, 2008 by Adam Katz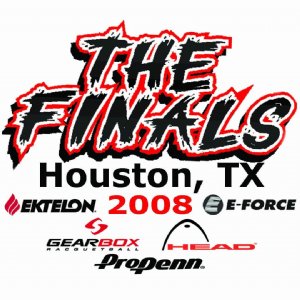 Just wanted to congratulate everyone that went and competed in Houston this past week at the USA Racquetball National Singles Championships. The US Team Qualifying Divisions were won by Cheryl Gudinas Holmes and Rocky Carson. They have earned 1 year appointments to the US National Racquetball Team and should be in Ireland later on this summer representing the US at the IRF World Racquetball Championships.
Next up on the indoor circuit will be the Junior Nationals in Concord, CA June 25-29. Once again, racquetballonline.tv will be there to stream the best matches live to everyone.
The tournament website is:
http://www.r2sports.com/tourney/home.asp?TID=2466
For those of you attending, you can enter online at this site.
As previously mentioned, I will not be there this year, but I will try to keep everyone updated as I receive word from several people that will be there this summer.
That's all for now.
Related posts:
Entry Filed under: Racquetball News,USA Racquetball
Tags: 2008 National Juniors, 2008 National Singles, National Juniors. US National Racquetball Team, National Singles